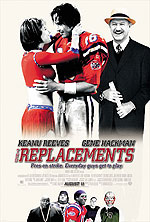 Pain heals, Chicks dig scars... Glory lasts forever
::
Pros on strike. Everyday guys get to play.
::
Throw the ball. Catch the girl. Keep it simple.
::
Hit hard
The Replacements (2000)
http://www.imdb.com/title/tt0191397/
| | |
| --- | --- |
| Keanu Reeves | Shane Falco |
| Gene Hackman | Jimmy McGinty |
| Brooke Langton | Annabelle Farrell |
| Orlando Jones | Clifford Franklin |
| Faizon Love | Jamal Jackson |
| Michael Taliferro | Andre Jackson (as Michael 'Bear' Taliferro) |
| Ace Yonamine | Jumbo |
| Troy Winbush | Walter Cochran |
| David Denman | Brian Murphy |
| Jon Favreau | Daniel Bateman |
| Michael Jace | Earl Wilkinson / Ray Smith |
| Rhys Ifans | Nigel 'The Leg' Gruff |
| Gailard Sartain | Pilachowski |
| Art LaFleur | Banes |
| Brett Cullen | Eddie Martel |
Summary
When the professional football team, The Washington Sentinels, go on strike, a motley bunch of regular guys are brought in as their replacements to finish the season's last four games. Hilarity ensues.
Posters – click to enlarge
Reviews
xariesgirl78x
(2009-09-08 10:12:37)


Forum Posts: 83
Comments: 106
Reviews: 4
It's always a hoot to watch.

Even now, when I see Jon Favreau in something I think of him in the Replacements going "You the MAN tonight Clifford Franklin!" LOL.

And I LOVE Keanu through the whole thing. He rocks!
You must be a member and logged in to leave a review.