7 August 2016 | Frank H. Wu, The Huffington Post (US)

I have always wondered why Keanu Reeves is "white" and Tiger Woods is "black," because both are Asian. The actor and athlete, who each have achieved that rare prominence of being referred to by first name alone as if any stranger in fact was acquainted with them, demonstrate how we assign people to categories based on images that overpower reality. ... Read more
19 July 2016 | Britt Hayes, ScreenCrush (US)

This year marks the 25th anniversary of two very special Keanu Reeves films: Point Break and Bill & Ted's Bogus Journey. ... Read more
13 July 2016 | Robert Frank, CNBC (US)

Action star Keanu Reeves is known for immersing himself in every detail of his roles, and now he's doing the same with his new business venture — making motorcycles. ... Read more
11 July 2016 | Britt Hayes, ScreenCrush (US)

If you were a fan of Bill & Ted in the late '80s and early '90s, then you probably recall a time when Alex Winter and Keanu Reeves' rad, time-traveling high school party dudes were pretty much everywhere ... Read more
11 July 2016 | Robert Frank, MSN (US)

We caught up with Keanu Reeves and Gard Hollinger—the founders of Arch Motorcycle—at the Goodwood Festival of Speed to talk bikes, dreams, and obsession with detail... Read more
3 July 2016 | Original: 23 October 2014 | Denny Directo, ETonline (US)
In celebration of John Wick, the 50-year-old actor's latest film out this Friday, we dug into the ET vault to find the first time we interviewed the actor—way back in ... Read more
30 June 2016 | Simon Patterson, Motorcycle News (UK)
The team from Arch Motorcycles grabbed many of the headlines from the Goodwood Festival of Speed last weekend ... Read more
29 June 2016 | Emma Powell, Evening Standard (UK)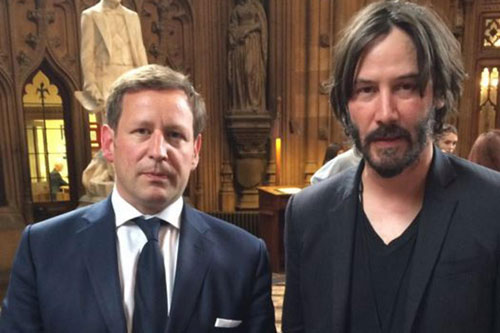 Hollywood star Keanu Reeves caused a Twitter meltdown after he was pictured wandering around Parliament. ... Read more
24 June 2016 | Sam C Fisher, Leicester Mecury (UK)

Hollywood actor and motorbike enthusiast Keanu Reeves spent the day visiting a Castle Donington company. ... Read more
19 June 2016 | Christina Radish, Collider (US)

Actor Peter Stormare on being in the John Wick sequel, and why he admires Keanu Reeves. ... Read more
17 June 2016 | Finn Cohen, The New York Times (US)

A jarring, visually arresting fairy tale about self-worth in the selfie age, it's full of shocks that are delivered like razor blades hidden inside cotton candy ... Read more
16 June 2016 | Ryan Waterfield, BigLife Magazine (US)
Alexandra Grant is a visual artist, but her work is inextricably linked to language. ... Read more
16 June 2016 | Zach Seemayer, ETonline (US)

Get excited, dudes! The long-awaited Bill & Ted threequel is happening, and it sounds like it's going to be "most excellent." ... Read more
15 June 2016 | UNAIDS (Switzerland)

Held for the first time during Art Basel week, the evening at Design Miami/Basel featured reading by Keanu Reeves and Alexandra Grant and live music by Duran Duran ... Read more
13 June 2016 | Steve 'Frosty' Weintraub, Collider (US)

Last year, when Nicolas Winding Refn's The Neon Demon was filming in Pasadena, I got to visit the set with a few other reporters. ... Read more
19 June 2016 | Original: 9 May 2016 | Elizabeth Mealey, Musée Magazine (US)
"We don't need another fucking picture of a hand. Kill me!" This is how Keanu Reeves, coauthor of the new art book Shadows with Alexandra Grant, laughingly described their editing process. ... Read more
Update

19 June 2016

Hey everyone! Sorry about being slow with the updates for a while; I've been busy with work and other things, but I'm working through the backlog now and getting these articles up a few at a time.
31 May 2016 | Jennifer Rollin, The Huffington Post (US)

If I asked you to picture someone with an eating disorder, what comes to mind? ... Read more
10 May 2016 | Hayley Inch and Stephanie Lai, The Toast (US)

In our opinion there is no filmic presence like that of Keanu Reeves. He's unique, a gift to us all. We live here within the Keanu-as-actor timeline, and we are lucky to do so ... Read more
6 May 2016 | Max Lakin, W Magazine (US)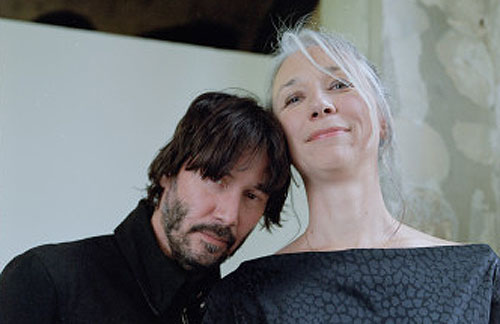 In his second book collaboration with the artist Alexandra Grant, the actor-turned-poet spins a moody, spiritual lyric. Is he a seer, or is he a siren? We meet him to find out. ... Read more
6 June 2016 | Shubhang Saurav, International Business Times (India)

Ian McShane of "Deadwood" fame played the character of Winston in the 2014 action-thriller movie "John Wick" starring Keanu Reeves. ... Read more
Go to the archives for older articles and here for previous site-related news.