February 2017 | Jordan Farley, Total Film (UK)
They stole his car, they killed his dog, but now cinema's deadliest assassin is fighting for something even more important: his life. Keanu Reeves, director Chad Stahelski and the cast of JOHN WICK: CHAPTER 2 join Total Film to discuss the ballistic sequel redefining Hollywood action. ... Read more
3 January 2017 | Mike Fleming Jr, Deadline (US)

Even before Sony Pictures secured a January 13 release date to open Passengers in China, the cast and producers barnstormed the film in Beijing. After opening just OK domestically in the teeth of stiff holiday film competition, Passengers' hopes for profitability might well now re... Read more
November 2016 | Daniel Borras, Vogue (Spain)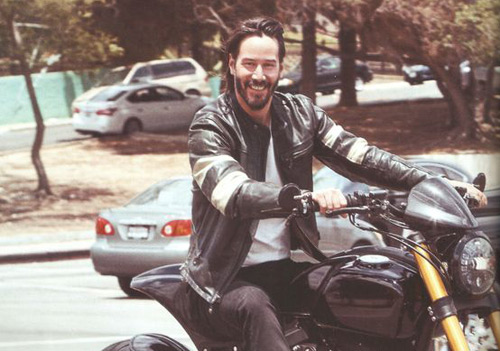 Keanu Reeves takes the subway, and has gone from playing Romeo and Juliet's Mercutio in his youth to writing poetry today. Now, with artist Alexandra Grant, he unveils his new artistic work: two books of art... Read more
Original: 4 February 2015 | Cristiana Allievi, Grazia (It)

When not playing bass in his band, Keanu Reeves builds motorcycles and writes poetry. But here, Hollywood's most mysterious actor talks about how he learnt to deal with his demons... Read more
24 October 2016 | John Nugent, Empire (UK)

John Wick – sharp suit wearer, cute dogs petter, and balletic fast-shooting action hero – is thinking he's back. "Oh...he's back," Keanu Reeves tells us in the new issue of Empire. ... Read more
31 October 2016 | Jacob Knight, Empire (UK)

Keanu Reeves and Al Pacino square off in one of the most under-appreciated movies from the '90s. ... Read more
4 November 2016 | whoaisnotme.net

Hey everyone! My hosting bill for this site is due soon - SGD$154 (about US$110) for another two years of hosting. While I try to foot the bill myself, any donations are, as always, very much welcome and appreciated. So if you've enjoyed this site and would like to help out, you can go here to send a donation via PayPal. Thanks!

26 October 2016 | Film-News.co.uk (UK)

Keanu Reeves' martial arts skills have earned him high praise from John Wick: Chapter 2 director Chad Stahelski. ... Read more

25 October 2016 | Danny Miller, Cinephiled (US)

Defense attorney Richard Ramsay (Keanu Reeves) takes on a personal case when he swears to his widowed friend, Loretta Lassiter (Renée Zellweger), that he will keep her son, Mike (Gabriel Basso), out of prison ... Read more

21 October 2016 | Desiree Murphy, Collider (US)

Don't expect to see Renée Zellweger or Keanu Reeves on social media anytime soon. ... Read more

21 October 2016 | Lea Palmieri, Decider (US)

Arriving on VOD today is The Whole Truth ... Read more

21 October 2016 | Aubrey Page, Collider (US)

Few non-Marvel sequels are as highly anticipated as next year's John Wick: Chapter 2, a rip-roaring continuation of the uber-violent, turbo charged action flick that put Keanu Reeves back in action and spawned legions of passionate fans thanks to the film's intens... Read more

Original: 23 September 2016 | Emiko Ishigami, Cinema Today (Jp)

In the new thriller "Exposed", Keanu Reeves plays a cop from the New York Police Department who braves personal danger to exp... Read more

20 October 2016 | Stephen Saito, The Moveable Fest (US)

One of Courtney Hunt's favorite things about filmmaking is watching all the pieces coalesce into a cohesive whole. ... Read more

14 October 2016 | Gregory Wakeman, Cinema Blend (US)

During last weekend's panel to showcase John Wick: Chapter 2 in all of its glory, Laurence Fishburne's participation in the action thriller was obviously brought up. ... Read more

10 October 2016 | Aubrey Page, Collider (US)

The hype train for John Wick: Chapter 2 is picking up steam after the weekend brought the arrival of the first official trailer for the upcoming action sequel. Setting Keanu Reeves' cutthroat assassin against newcomers like Common (who will play another expert killer-for-hire), Ruby Rose and Laur... Read more

Happy birthday, Keanu.

2 September 2016

May all your rides be joyous and every sandwich satisfying.

Go to the archives for older articles and here for previous site-related news.

---

Site Stats

Articles: 3125
Comments: 2489
Forum Posts: 22739
Reviews: 51
Scripts: 36

I apologise once again for testing your patience this long, given that the previous dinosaur was posted more than two years ago. People born then are walking and talking by now.