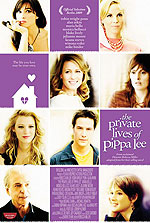 The life you love may be your own.
The Private Lives of Pippa Lee (2009)
http://www.imdb.com/title/tt1134629/
| | |
| --- | --- |
| Robin Wright Penn | Pippa Lee |
| Keanu Reeves | Chris Nadeau |
| Julianne Moore | Kat |
| Alan Arkin | Herb Lee |
| Winona Ryder | Sandra Dulles |
| Maria Bello | Suky Sarkissian |
| Monica Bellucci | Gigi Lee |
| Zoe Kazan | Grace Lee |
| Mike Binder | Sam Shapiro |
| Ryan McDonald | Ben Lee |
| Blake Lively | Teenage Pippa Lee |
Summary
Official summary: "At fifty, Pippa Lee positively glows with female serenity, the devoted wife of a brilliant publisher thirty years her senior, proud mother of successful twins and a lovely and adored friend and neighbor. But, when her husband spontaneously decides that they should leave New York for a retirement home as a "pre-emptive strike against decrepitude," and has an affair with someone even younger than she is, Pippa finds her beatific persona unraveling in alarming ways. The truth is, the gracious woman of the present day has seen more than her fair share of the wild side. She has finally found love and security in a family of her own. And now, that cozy world, too, is in danger."
Posters – click to enlarge
Reviews
Br0nz18
Private Lives of Pippa Lee (2009-06-08 10:25:12)


Forum Posts: 30
Comments: 9
Reviews: 3
The first word that comes to mind with this movie is 'clarity'...in that the way Rebecca Miller has told this story in film makes the story clearer than it was in the book. Also, each of the actors brought their characters very much to life and were true to them. Thirdly, there was no unfinished business about the story...it was told and there were no loose ends although the end of the film is open-ended, just as it is in the book...we don't know what this next part of Pippa's life will bring.
Each actor was well-cast.
The first thing that struck me about Keanu's portrayal of Chris is that I almost didn't recgonise Keanu...of cousre he's recognisable..I was looking for that face to appear on the screen, but there was some quality about that portrayal that did not make me think this was just Keanu...he was Chris...distant, terse, an arsehole as he describes himself.
Monica Belucci was very different to her role in Matrix 2...still gorgeous, but troubled...without giving too much away, her exit from the tale is dramatic (even though I knew it was coming and was expecting it, it still made me jump).
Alan Arkin was the self-focused Herb, Winona Ryder a really loopy Moira (though I think she was called Sandra in the film rather than Moira).
Powerful, significant, a treat to see. Not an 'easy' film, not a chick-flick, but a thoughtful look (as the book is) at what makes up a woman's life.
Although Chris is not a major player in the book, Keanu is on screen for quite some time, but flitting in and out so there is this feel that he is very much part of the film's totality.
I am looking forward to seeing it again, and enjoying the nuances that Keanu always brings to his roles.
You must be a member and logged in to leave a review.