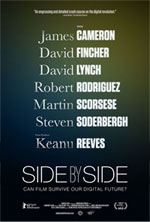 Side by Side (2012)
http://www.imdb.com/title/tt2014338/
Summary
A documentary comparing and contrasting celluloid with digital film, investigating the history of the shift through interviews with notable directors and other filmmakers.
Posters – click to enlarge
Reviews
ARYA
my impression of Side By Side (2012-12-28 08:10:44)


Forum Posts: 2835
Comments: 73
Reviews: 11



I was fortunate enough to have the opportunity of viewing this at Tribeca Film Festival 2012. The theater was packed on a Friday afternoon. There was so much movie making royalty in this documentary I wont even drop any names excepting for Keanu Reeves' who is the interviewer and who's most often the voice over for lots of technical information on the transitioning from film to digital. Somehow he made the technical journey understandable and enjoyable and without judgment about which is better. I am betting this documentary will be a staple in film schools. The clips of the movies alone make it hard to take your eyes off the screen lest you miss something. I look forward to having it on DVD. And just for the record, I want a lot of extras like deleted scenes and out takes. :)
You must be a member and logged in to leave a review.