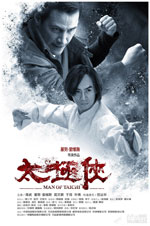 Man of Tai Chi (2013)
http://www.imdb.com/title/tt2016940/
| | |
| --- | --- |
| Tiger Hu Chen | Chen Lin-Hu |
| Keanu Reeves | Donaka Mark |
| Karen Mok | Sun Jingshi |
| Simon Yam | Wong |
| Michael Chan | Police Officer #1 |
| Qing Ye | Qingsha |
| Yu Hai | Yang |
| Sam Lee | Tak Ming |
| Iko Uwais | Gilang Sanjaya |
Summary
In Beijing, a young martial artist's skill places him in position to experience opportunities and sacrifices.
Posters – click to enlarge
Reviews
silver
Keanu's first Directorial Project My first Review (2017-03-05 02:55:23)


Forum Posts: 69
Comments: 4
Reviews: 10
Like the subject line says.

So, "Man of Tai Chi" is a movie that I am happy to review. I love Martial Arts, and Martial Art films, so this is a treat for me. The fact that this movie puts a spotlight on Tai Chi, a Martial Art that is considered "Soft Style", and makes it the star tool for fighting, is something I would have never thought of. Perhaps I would have guessed that the main character uses Tai Chi in addition to some other "Hard Style" Martial Art, and the combination makes him different than the other fighters, but the way it turned out was pretty cool.

This movie contains elements of temptation, power, and their seductive nature. It presents the well known concept of, "good intentions can lead to bad things". One can tell that Keanu was (at least) inspired by Kung Fu movies of old, which is a good thing. You see this particularly in the last fight between Keanu and Chen. Chen kills it as the star.

Chen went from a naivete that endeared him to the audience, and into a power lust that did not alienate the audience. I found myself caring about what darkness the character was heading into.

Keanu got to play almost a human personification, or perhaps conduit, for dark temptation to reach Chen. I saw that he (In my opinion) really played up this antagonist, in yet another nod to old school Kung Fu movies. He tells you what he is about almost as soon as you see the character.

What I disliked about this movie was the use of camera technology. While I understand that there would be some recording tools present, because we live in that time, I think there were too many. It made it hard to believe that this technology wouldn't be able to be exploited by law authorities more quickly than when it actually happened in the movie. Also, I thought some of the scenes perhaps went too long, the fight with the twins in what looked to be a club of some sort, is an example. However, I may be wrong (and may have a short attention span lol)

All in all, I think this was a pretty good directorial debut from Keanu. I can't wait to see what he directs next.
You must be a member and logged in to leave a review.