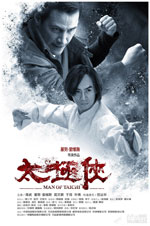 Man of Tai Chi (2013)
http://www.imdb.com/title/tt2016940/
| | |
| --- | --- |
| Tiger Hu Chen | Chen Lin-Hu |
| Keanu Reeves | Donaka Mark |
| Karen Mok | Sun Jingshi |
| Simon Yam | Wong |
| Michael Chan | Police Officer #1 |
| Qing Ye | Qingsha |
| Yu Hai | Yang |
| Sam Lee | Tak Ming |
| Iko Uwais | Gilang Sanjaya |
Summary
In Beijing, a young martial artist's skill places him in position to experience opportunities and sacrifices.
Posters – click to enlarge
Reviews
Erin
I'm amazed (2018-01-08 05:47:47)


Forum Posts: 4
Comments: 1
Reviews: 2
As for the movie, I really enjoyed the temptation motif and that it had this philosophy behind the storyline. But what really struck me was Keanu Reeves as Donaka Mark. For me, this is Keanu's most believable character of a villain so far (chronologically speaking). Maybe it is due to him being a director of the film, so he knew what he wanted from the very beginning, I don't know, but here he truly convinced me he WAS the bad guy. Perfect!
You must be a member and logged in to leave a review.