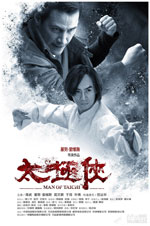 Man of Tai Chi (2013)
http://www.imdb.com/title/tt2016940/
| | |
| --- | --- |
| Tiger Hu Chen | Chen Lin-Hu |
| Keanu Reeves | Donaka Mark |
| Karen Mok | Sun Jingshi |
| Simon Yam | Wong |
| Michael Chan | Police Officer #1 |
| Qing Ye | Qingsha |
| Yu Hai | Yang |
| Sam Lee | Tak Ming |
| Iko Uwais | Gilang Sanjaya |
Summary
In Beijing, a young martial artist's skill places him in position to experience opportunities and sacrifices.
Posters – click to enlarge
Reviews
Jinx
MOTC (2016-01-18 17:48:25)


Forum Posts: 0
Comments: 0
Reviews: 1
I love it because it brings style to the kungfu movie, like the old school one I used to watch where you have crane style or drunken style, grashopper style. Not a generic kung fu style. Even though it is partly western production, with western writer, western director, western cinematopgrapher but it shows respect to Kungfu movie genre. It is a very well thought movie and straight forward i think. It's called Man of Taichi and the taichi theme appear throughout the movie. The black evil donaka vs the white good master, the yin and the yang, hard and soft. Donaka who is the evil lord but eerily soft spoken and the master who is tough and disciplined. And then there's Chen Hu in between having to find the balance... Very cool movie, awesome job..

You must be a member and logged in to leave a review.