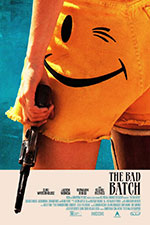 Bad Batch, The (2016)
http://www.imdb.com/title/tt4334266/
| | |
| --- | --- |
| Suki Waterhouse | Arlen |
| Jason Momoa | Miami Man |
| Jayda Fink | Honey |
| Keanu Reeves | The Dream |
| Diego Luna | Jimmy |
| Jim Carrey | Hermit |
| Yolonda Ross | Maria |
| Aye Hasegawa | Mousey |
| Giovanni Ribisi | The Screamer |
Summary
A love story set in a community of cannibals in a future dystopia. In a desert wasteland in Texas, a muscled cannibal breaks one important rule: don't play with your food.
Posters – click to enlarge
Reviews
No reviews at present.
You must be a member and logged in to leave a review.