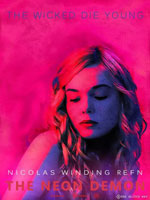 The wicked die young
::
Beauty isn't everything. It's the only thing.
::
Beauty is vicious
Neon Demon, The (2016)
http://www.imdb.com/title/tt1974419/
| | |
| --- | --- |
| Elle Fanning | Jesse |
| Karl Glusman | Dean |
| Jena Malone | Ruby |
| Bella Heathcote | Gigi |
| Desmond Harrington | Jack |
| Abbey Lee | Sarah |
| Christina Hendricks | Roberta |
| Keanu Reeves | Hank |
Summary
When aspiring model Jesse moves to Los Angeles, her youth and vitality are devoured by a group of beauty-obsessed women who will take any means necessary to get what she has.
Posters – click to enlarge
Reviews
No reviews at present.
You must be a member and logged in to leave a review.