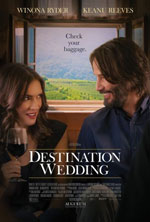 Destination Wedding (2018)
https://www.imdb.com/title/tt6987770/
| | |
| --- | --- |
| Keanu Reeves | Frank |
| Winona Ryder | Lindsay |
| Dj Dallenbach | Bride |
| Greg Lucey | Frank's Stepfather |
| D. Rosh Wright | Frank's Mother |
| Ted Dubost | Groom |
Summary
The story of two miserable and unpleasant wedding guests, Lindsay and Frank, who develop a mutual affection despite themselves.
Posters – click to enlarge
Reviews
silver
Cute (2020-05-10 22:34:39)


Forum Posts: 81
Comments: 4
Reviews: 19
Thanks for reading any of my reviews, in all their not good grammar and typo glory ????.

Destination Wedding is a cute movie. It is self aware, but not too annoyingly so.
The dialogue is slightly witty, with the characters speaking thoughts as if it were, a one run on sentence.
Brings together two familiar actors, and puts their supporting character type tropes into the lead roles.
The shots go back and forth between medium shots of am awkward atmosphere with Winona Ryder and Keanu Reeves, to beautiful wide shots of landscapes. This alienates the characters more from their scenic surroundings, which do not reflect their cynical views.
This movie is predictable, but you kinda want it that way.

Cute. 6/10

You must be a member and logged in to leave a review.