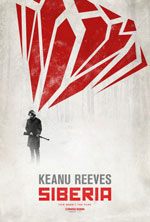 Siberia (2018)
https://www.imdb.com/title/tt6494418/
| | |
| --- | --- |
| Keanu Reeves | Lucas Hill |
| Molly Ringwald | Gabby |
| Ana Ularu | Katya |
| Aleks Paunovic | Yefrem |
| Pasha D. Lychnikoff | Boris Volkov |
| Ashley St. George | Christa |
Summary
When an American diamond trader's Russian partner goes missing, he journeys to Siberia in search of him, but instead begins a love affair.
Posters – click to enlarge
Reviews
silver
Watching Now (2020-05-10 22:56:08)


Forum Posts: 81
Comments: 4
Reviews: 19
I'm watching this now for the first time. 59 minutes in I checked out to write a review for Destination Wedding, and now this review as well.

It is a slow movie. It's not a Thiller per se, nor an Action...I don't know about the angle between the characters in the romance, because it's not romantic.

Why is the main character doing all this other stuff while supposedly looking for his diamonds?

You could watch the movie once, I say. So far nothing to rave about.

Going to finish the movie after I take out the trash.

A pending 5.5/10
You must be a member and logged in to leave a review.