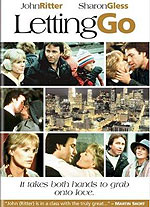 It Takes Both Hands to Grab Onto Love
Letting Go (1985)
http://www.imdb.com/title/tt0089480/
Year Filmed:
--
Director:
Jack Bender
Writers:
Zev Wanderer & Tracy Cabot (book)
Charlotte Brown (writer)
Runtime:
104 min
Watch:
Keanu clip
| | |
| --- | --- |
| John Ritter | Alex |
| Sharon Gless | Kate |
| Joseph Cortese | Neil |
| Kit McDonough | Sheila |
| Peter Dvorsky | Jim |
| Michael Fantini | Max |
| Max Gail | Dr. Rudnick |
| Barbara Gordon | Mrs. Rudnick |
| Deborah Turnbull | Jean Michaels |
| Jean Michaels | Business Man |
| Rhonda D'Amour | Nell's Friend |
| Gordon Clapp | Walter |
| Laura Owens | Joanne |
| Sandra Scott | Angela |
| Brenda Kamino | Melodie |
| David Bolt | Jerry |
| James Edmond | Frank |
| Lili Francks | Mitzi |
| Michele Scarabelli | Terry |
| Keanu Reeves | Stereo Teen #1 |
| Leslie Toth | Stereo Teen #2 |
Summary
School teacher Kate discovers that her boyfriend has been cheating on her; electronics store Alex is meanwhile trying to come to terms with the death of his wife. They have to learn the art of LETTING GO.

I still suck at summaries.

...Alex and Kate, lol.
Posters – click to enlarge
Reviews
No reviews at present.
You must be a member and logged in to leave a review.