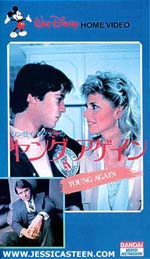 Some wishes do come true.
Young Again (1986)
http://www.imdb.com/title/tt0092269/
Alternate Title(s):
"I Wish I Were Eighteen Again"
Year Filmed:
1985
Director:
Steven Hilliard Stern
Writers:
Barbara Hall (writer)
David Simon (story)
Runtime:
120 min
Articles:
Tagged 'Young Again'
| | |
| --- | --- |
| Robert Urich | Michael Riley, Age 40 |
| Lindsay Wagner | Laura Gordon |
| Keanu Reeves | Michael Riley, Age 17 (as K.C. Reeves) |
| Jessica Steen | Tracy Gordon |
| Jack Gilford | The Angel |
| Jason Nicoloff | Peter Gordon |
| Jeremy Ratchford | Ted |
Summary
40-year-old Michael Riley angsts about being old and wishes that he were a kid again. On a bus ride home, an angel hears his gripe and decides to grant his wish, de-aging Mike into a 17 year old version of himself. Mike is esctatic. He goes around having fun, re-enrolls in high school, gets a girlfriend, and then falls in love with his girlfriend's mother. Sadly for him, she is not a pedophile, and so Mike has to come to terms with reality and make his choice between youth and love.
Posters – click to enlarge
Reviews
No reviews at present.
You must be a member and logged in to leave a review.