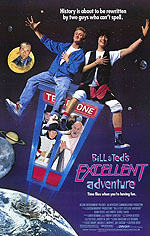 History is about to be rewritten by two guys who can't spell...
::
Party on, dudes!
::
Time flies when you're having fun.
::
The funniest comedy in the history of history.
Bill & Ted's Excellent Adventure (1989)
http://www.imdb.com/title/tt0096928/
| | |
| --- | --- |
| Keanu Reeves | Ted Logan |
| Alex Winter | Bill S. Preston, Esq. |
| George Carlin | Rufus |
| Terry Camilleri | Napoleon |
| Dan Shor | Billy the Kid |
| Tony Steedman | Socrates |
| Rod Loomis | Dr. Sigmund Freud |
| Al Leong | Genghis Khan |
| Jane Wiedlin | Joan of Arc |
| Robert V. Barron | Abraham Lincoln (as Robert Barron) |
| Clifford David | Ludwig van Beethoven |
| Hal Landon Jr. | Captain Logan |
| Bernie Casey | Mr. Ryan |
| Amy Stock-Poynton | Missy Preston |
| J. Patrick McNamara | Mr. Preston |
| Frazier Bain | Deacon Logan |
| Diane Franklin | Princess Joanna |
| Kimberley Kates | (as Kimberley LaBelle) |
Summary
Two SoCal teens named Bill and Ted find themselves in danger of flunking most heinously out of history, their grades hanging on a final history project. If they do, Ted's father threatens to send him to military school in Alaska, which would effectively kill the duo's rock band dreams. Enter a guy named Rufus with a time travelling phonebooth, sent from the future to ensure that Bill and Ted stay together, form their band and bring peace and harmony to the world with their music. He loans them the time machine for help with their history project, and the teens go on an excellent adventure through time liberally kidnapping historical personages and bringing them back to the world of 1988.
Posters – click to enlarge
Reviews
silver
A Fun Movie (2018-02-11 12:06:52)


Forum Posts: 81
Comments: 4
Reviews: 21
This one doesn't need a review per se, but here's a quick one. I bet most visitors on this site has seen this one several times.

"BILL & TED'S EXCELLENT ADVENTURE", is a fun movie with catchy lines, and catchy characters. Alex Winter, and Keanu Reeves really seem like good friends, and their on screen characters get into to very interesting situations.

Definitely worth watching at least once, for any fan or Keanu Reeves.
You must be a member and logged in to leave a review.