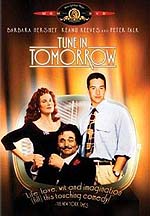 Tune in Tomorrow... (1990)
http://www.imdb.com/title/tt0100822/
| | |
| --- | --- |
| Barbara Hershey | Aunt Julia |
| Keanu Reeves | Martin Loader |
| Peter Falk | Pedro Carmichael |
| Bill McCutcheon | Puddler |
| Patricia Clarkson | Aunt Olga |
| Richard Portnow | Uncle Luke |
| Jerome Dempsey | Sam & Sid |
| Richard B. Shull | Leonard Pando |
| Paul Austin | Donald Loader |
| Joel Fabiani | Ted Orson |
| Crystal Field | Josephine Sanders |
| Jayne Haynes | Aunt Hortensia |
| Mary Joy | Frances Loader |
| Rob Kramer | Jamie |
| Anna Levine | Faith Hope (as Anna Levine Thomson) |
Summary
Guy named Martin falls in love with his non-blood-relative aunt; some scriptwriter at a radio station gets wind of this, is inspired, and decides to incorporate bits of their real life relationship in his own drama series. Hilarity ensues.
Posters – click to enlarge
Reviews
No reviews at present.
You must be a member and logged in to leave a review.