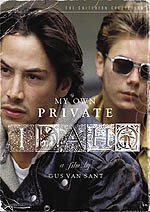 This road will never end. It probably goes all around the world.
::
Some people take your heart, others take your shoes, and still others take you home.
::
Wherever, whatever, have a nice day.
::
whatever it takes to have a nice day
::
It's not where you go, it's how you get there.
My Own Private Idaho (1991)
http://www.imdb.com/title/tt0102494/
| | |
| --- | --- |
| River Phoenix | Mike Waters |
| Keanu Reeves | Scott Favor |
| James Russo | Richard Waters |
| William Richert | Bob Pigeon |
| Rodney Harvey | Gary |
| Chiara Caselli | Carmella |
| Michael Parker | Digger |
| Jessie Thomas | Denise |
| Flea | Budd |
| Grace Zabriskie | Alena |
| Tom Troupe | Jack Favor |
| Udo Kier | Hans |
| Sally Curtice | Jane Lightwork |
| Robert Lee Pitchlynn | Walt |
| Mickey Cottrell | Daddy Carroll |
Summary
Modern take on Shakespeare's Henry IV part 1; follows two male hustlers - Mike and Scott - through the streets of Oregon and beyond in a roadtrip quest to find Mike's mother, the narcoleptic Mike falling asleep muchly along the way. Have a nice day.
Posters – click to enlarge
Reviews
silver
Not for Everyone (2017-03-16 13:20:14)


Forum Posts: 81
Comments: 4
Reviews: 21

I watched this a few times, and I found it very artsy, and dark. When I first saw it, I picked up on the Shakespearean influences very early on, and that was a cool touch.

With my little knowledge of Narcolepsy, I question River's performance, as I do not recall seeing a Narcoleptic slowly fade into an episode, but rather quite suddenly drop into it. However, Phoenix was known to do tons of research for his roles, so I'm sure that's just my lack of more research on my end.

I enjoy anytime Keanu goes into something more Shakespearean, and hope one day to see him play Puck in a Mid Summer's Night Dream (I can imagine right? lol).

The shots were good, but sometimes I think the movie tended to lag, and (imo) the characters were lackadaisical in their personal goals at times. For this, and the sexual content, I think that this movie isn't for everyone.
You must be a member and logged in to leave a review.