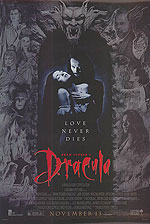 Beware
::
The blood is life.
:: Love Never Dies.
Bram Stoker's Dracula (1992)
http://www.imdb.com/title/tt0103874/
| | |
| --- | --- |
| Gary Oldman | Dracula |
| Winona Ryder | Mina Murray / Elisabeta |
| Anthony Hopkins | Professor Abraham Van Helsing |
| Keanu Reeves | Jonathan Harker |
| Richard E. Grant | Dr. Jack Seward |
| Cary Elwes | Lord Arthur Holmwood |
| Bill Campbell | Quincey P. Morris |
| Sadie Frost | Lucy Westenra |
| Tom Waits | R.M. Renfield |
| Monica Bellucci | Dracula's Bride |
| Michaela Bercu | Dracula's Bride |
| Florina Kendrick | Dracula's Bride |
| Jay Robinson | Mr. Hawkins |
| I.M. Hobson | Hobbs |
| Laurie Franks | Lucy's Maid |
Summary
Vampires.
Posters – click to enlarge
Reviews
silver
The movie is fine (2018-02-11 12:24:16)


Forum Posts: 82
Comments: 4
Reviews: 21
It has been a while since I've seen this one, but I'm going to write a review anyway.


The movie is fine. Gary Oldman is a beast at acting, so him as Dracula is a smooth and easy choice. Winona Ryder didn't stick out for good or bad in this, so her Mina was fair. Another acting beast, Anthony Hopkins could sleepwalk his way through a role, and it would be a better performance than many. Cary Elwes did his thing. Anyway, all around good cast.
As for Keanu Reeves for Jonathan Harker...
The situation is this, Harker should have been slightly older. Keanu looked, sounded, and seemed too young for this role. It made everyone else (excluding Winona) seem like a seasoned vet, and Reeves a young high school student in the school play version of Dracula. This isn't true for Reeves abilities as an actor.
Some of the shots were really good in some parts, but somewhat boring in others. Costumes for Vlad/Dracula were great. The pace was fair, and the music fit well.

I do recommend seeing this movie once or twice to someone who hasn't seen it yet.
You must be a member and logged in to leave a review.