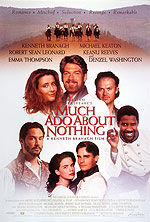 Much Ado About Nothing (1993)
http://www.imdb.com/title/tt0107616/
| | |
| --- | --- |
| Kenneth Branagh | Benedick |
| Emma Thompson | Beatrice |
| Denzel Washington | Don Pedro |
| Keanu Reeves | Don John |
| Kate Beckinsale | Hero |
| Robert Sean Leonard | Claudio |
| Imelda Staunton | Margaret |
| Richard Briers | Leonato |
| Michael Keaton | Dogberry |
| Jimmy Yuill | Friar Francis |
| Brian Blessed | Antonio |
| Andy Hockley | George Seacole |
| Conrad Nelson | Hugh Oatcake |
Summary
Its Wikipedia summary says: "The story concerns a pair of lovers named Claudio and Hero who are due to be married in a week. To pass the time before their wedding day they conspire with Don Pedro, the prince of Aragon, to trick their friends, Beatrice and Benedick, into confessing their love for one another. The prince's illegitimate brother Don John, however, jealous of both Don Pedro's power and his affection for Claudio, plans to sabotage the coming wedding." So, yeah... that.
Posters – click to enlarge
Reviews
No reviews at present.
You must be a member and logged in to leave a review.