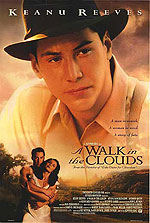 A man in search. A woman in need. A story of fate.
A Walk in the Clouds (1995)
http://www.imdb.com/title/tt0114887/
| | |
| --- | --- |
| Keanu Reeves | Paul Sutton |
| Aitana Sánchez-Gijón | Victoria Aragón |
| Anthony Quinn | Don Pedro Aragón |
| Giancarlo Giannini | Alberto Aragón |
| Angélica Aragón | María José Aragón |
| Evangelina Elizondo | Guadalupe Aragón |
| Freddy Rodríguez | Pedro Aragón, Jr. |
| Debra Messing | Betty Sutton |
| Febronio Covarrubias | José Manuel |
| Roberto Huerta | Jose Luis |
| Juan Jiménez | José María |
| Ismael Gallegos | José's Musical Son |
| Alejandra Flores | Consuelo |
Summary
Ok, so there's this soldier, see, named Paul Sutton, and he's back from the war and goes out to sell chocolates because chocolates are good and tasty and now I'm hungry. On his travels he encounters a pregnant woman afraid to go home to face her father because he will metaphorically kill her for being pregnant and unmarried. Ergo Paul agrees to pose as her husband for the time being. Stuff happens, they fall in love, et cetera. Sad to say, no literal cloudwalking takes place as far as I can tell. So this is just a warning in case you watch the film just for that and end up feeling shortchanged. Deceitful title is deceitful.
Posters – click to enlarge
Reviews
xariesgirl78x
(2009-09-08 10:30:42)


Forum Posts: 83
Comments: 106
Reviews: 4
This was one of the first Keanu movies I saw as a fan and it's great. Simply for Keanu's performance, the good, honorable, decent Paul Sutton. Even though he's helping Victoria deceive her family, he's in a sense doing it for the right reasons. Anthony Quinn's a hoot as the grandfather, and the scene where he's teaching Keanu the serenade song is adorable.
You must be a member and logged in to leave a review.