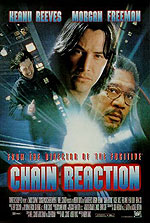 Reaction Time 8-4-96
Chain Reaction (1996)
http://www.imdb.com/title/tt0115857/
| | |
| --- | --- |
| Keanu Reeves | Eddie Kasalivich |
| Morgan Freeman | Paul Shannon |
| Rachel Weisz | Dr. Lily Sinclair |
| Fred Ward | FBI Agent Leon Ford |
| Kevin Dunn | FBI Agent Doyle |
| Brian Cox | Lyman Earl Collier |
| Joanna Cassidy | Maggie McDermott |
| Chelcie Ross | Ed Rafferty |
| Nicholas Rudall | Dr. Alistair Barkley |
| Tzi Ma | Lu Chen |
| Krzysztof Pieczynski | Lucasz Screbneski |
| Julie R. Pearl | Emily Pearl |
Summary
A group of scientists at the University of Chicago come up with a way to use water as a high source of energy. When the lab is blown up, people killed and the technology stolen, student Eddie Kasalivich and physicist Lily Sinclair find themselves framed for the crime and have to run for their lives as they attempt to clear their names and recover the stolen technology.
Posters – click to enlarge
Reviews
No reviews at present.
You must be a member and logged in to leave a review.