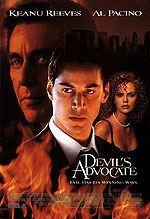 Speak of the devil
::
The newest attorney at the world's most powerful law firm has never lost a case. But he's about to lose his soul.
::
Devil begins and wins.
::
Evil has its winning ways.
The Devil's Advocate (1997)
http://www.imdb.com/title/tt0118971/
| | |
| --- | --- |
| Keanu Reeves | Kevin Lomax |
| Al Pacino | John Milton |
| Charlize Theron | Mary Ann Lomax |
| Jeffrey Jones | Eddie Barzoon |
| Judith Ivey | Mrs. Alice Lomax |
| Connie Nielsen | Christabella Andreoli |
| Craig T. Nelson | Alexander Cullen |
| Tamara Tunie | Mrs. Jackie Heath |
| Ruben Santiago-Hudson | Leamon Heath |
| Debra Monk | Pam Garrety |
| Vyto Ruginis | Mitch Weaver |
Summary
Hotshot lawyer Kevin Lomax has never lost a case, because he's just strange that way. One day he gets an offer he can't refuse and winds up moving himself and his wife to New York for a shiny new job that pays a lot. Unbeknownst to him, but beknownst to everyone who read the movie synopsis before watching, his new boss happens to be the devil. THE PLOT THICKENS. Kind of like how soup thickens. Soup is good. There is no soup in this movie. A pity. I like soup.
Posters – click to enlarge
Reviews
TheTangerine
:D (2010-05-09 11:48:01)


Forum Posts: 385
Comments: 33
Reviews: 2
I actually really liked this movie, a lot. Keanu's accent sort of made me angry at first, and there was sort of too many kissing scenes, but I liked Keanu's performance in general. "Lose? I don't lose! I win! I win! I'm a lawyer! That's my job, that's what I do!" --Kevin Lomax :D :D :D
You must be a member and logged in to leave a review.