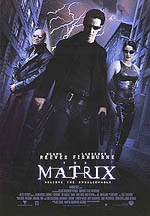 Free your mind
::
In a world of 1s and 0s...are you a zero, or The One?
::
The Matrix has you.
::
Welcome to the Real World
::
The Future Will Not Be User Friendly
::
What is The Matrix?
::
The Fight for the Future Begins
::
Believe the unbelievable
::
Reality is a thing of the past
::
Perception: Our day-in, day-out world is real. Reality: That world is a hoax, an elaborate deception spun by all-powerful machines of artificial intelligence that control us. Whoa.
::
Be Afraid Of The Future
::
Unfortunately, no one can be told what the Matrix is. You have to see it for yourself.
Matrix, The (1999)
http://www.imdb.com/title/tt0133093
| | |
| --- | --- |
| Keanu Reeves | Neo |
| Laurence Fishburne | Morpheus |
| Carrie-Anne Moss | Trinity |
| Hugo Weaving | Agent Smith |
| Gloria Foster | Oracle |
| Joe Pantoliano | Cypher |
| Marcus Chong | Tank |
| Julian Arahanga | Apoc |
| Matt Doran | Mouse |
| Belinda McClory | Switch |
| Anthony Ray Parker | Dozer |
| Paul Goddard | Agent Brown |
| Robert Taylor | Agent Jones |
Summary
Hapless geek Thomas Anderson spends his days in the drone of office work and his nights in the fascinating world of computers, where he goes by the alias 'Neo' and is on the perpetual search for truth - namely, the truth about something called the Matrix. Some people - the shadowy Agents - do not like this very much, and try to stop him. Meanwhile, a group of freedom fighters led by the very-bald Morpheus fights to get to him first and let him on into the shocking reality of his world - that it is fake, no more than an elaborate virtual reality created to conceal from humans the fact that they are no more than rows of organic batteries lying in fields providing power to the rebellious Machines. And that's not all, for a prophecy predicts that Neo is the Chosen One, much like Harry Potter and Anakin Skywalker, and will One day be the One to end the war and free the human race through the power of the One Ring to Rule Them All wrong story.

Zark it I know this movie by heart and I've seen it too many times for my own good because it's my second favourite movie of all time and I still can't write a decent summary LOOK JUST WATCH IT IT IS AWESOME AND YOU WILL NOT REGRET IT.
Posters – click to enlarge
Reviews
silver
Great³ (2017-03-16 13:31:28)


Forum Posts: 81
Comments: 4
Reviews: 21
I saw this when it came out, and I was about 10. I understood what the movie was setting up, but my parents didn't lol.

Action, Great.
Love Story, Great.
Humor, Great.
=Great³
Lawrence Fishburne vs Keanu Reeves, YES PLEASE all day/everyday indeed.

The shots have stood the test of time, now that it is 2017 and it still looks really good. (Unlike Johnny Mnemonic lol joking...not really though)
You must be a member and logged in to leave a review.