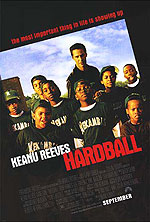 The most important thing in life is showing up
::
The story of ten kids and a coach who never had a chance... until they took a chance on each other.
Hardball (2001)
http://www.imdb.com/title/tt0180734
| | |
| --- | --- |
| Keanu Reeves | Conor O'Neill |
| Diane Lane | Elizabeth Wilkes |
| John Hawkes | Ticky Tobin |
| Bryan Hearne | Andre Ray Peetes (as Bryan C. Hearne) |
| Julian Griffith | Jefferson Albert Tibbs |
| Michael B. Jordan | Jamal (as Michael Jordan) |
| A. Delon Ellis Jr. | Miles Pennfield II |
| Kristopher Lofton | Clarence |
| Michael Perkins | Kofi Evans |
| Brian M. Reed | Raymond 'Ray Ray' Bennet |
| DeWayne Warren | Jarius 'G-Baby' Evans |
Summary
Based loosely on the Daniel Coyle non-fiction book 'Hardball: A Season in the Projects' (and sued for slander and misrepresentation by the subject of said book), the film follows compulsive gambler and drinker Conor O'Neill through the pit that is his pathetic life as he gets himself further and further into debt and more broke than it is chemically possible to get (I suck at summaries. I need to entertain myself by adding bits that don't make any sense at all. Tea.). One day, O'Neill reluctantly agrees to coach a children's baseball team in order to pay off that debt - because the alternative is to get slaughtered by people who would like their money back - and in the course of spending time with the kids - and their teacher, Ms. Wilkes - learns to better appreciate life and become a better person.
Posters – click to enlarge
Reviews
No reviews at present.
You must be a member and logged in to leave a review.