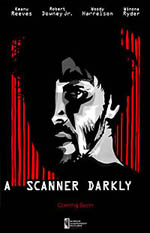 What Does A Scanner See?
::
Everything Is Not Going To Be OK
A Scanner Darkly (2006)
http://www.imdb.com/title/tt0405296/
| | |
| --- | --- |
| Keanu Reeves | Bob Arctor |
| Robert Downey Jr. | James Barris |
| Woody Harrelson | Ernie Luckman |
| Winona Ryder | Donna Hawthorne |
| Rory Cochrane | Charles Freck |
Summary
Based on the Philip K. Dick novel of the same title, A Scanner Darkly is set in a high-surveillance society of the near future in which a portion of the populace is in the grip of a new drug, Substance D. Narcotics officer code name Fred real name Bob is sent undercover to spy on a particular group of Substance-D users - Freck, Barris and himself - but as the drug starts to affect his brain, the distinction between his two identities starts to grow, leading to new heights of paranoia and confusion.
Posters – click to enlarge
Reviews
Br0nz18
(2010-01-04 08:56:39)


Forum Posts: 30
Comments: 9
Reviews: 3
The standout for me in this movie were Keanu's eyes...they were so sad, especially when he was in the scramble suit. Keanu conveys so much with his eyes.
I also love the scene near the end of the movie when Winona Ryder's character is talking to her boss over coffee. Her boss talks about God's MO and how we so often can only see/understand things after they've happened; that there is an underlying story being worked out that is not readily obvious...that resonates so much with how I see life.
You must be a member and logged in to leave a review.