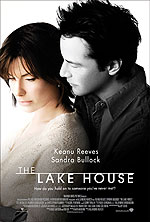 How do you hold on to someone you've never met?
::
What if you found the one you were meant for... but you lived 2 years apart?
Lake House, The (2006)
http://www.imdb.com/title/tt0410297/
| | |
| --- | --- |
| Keanu Reeves | Alex Wyler |
| Sandra Bullock | Kate Forster |
| Christopher Plummer | Simon Wyler |
| Ebon Moss-Bachrach | Henry Wyler |
| Willeke van Ammelrooy | Kate's Mother |
| Dylan Walsh | Morgan |
| Shohreh Aghdashloo | Anna |
| Lynn Collins | Mona |
| Mike Bacarella | Mulhem |
Summary
Based on the Korean drama Il Mare, the story follows architect Alex Wyler and doctor Kate Forster as they strike up a relationship based solely on the exchange of letters. The catch - they also happen to be living two years apart, both in the titular lake house, which apparently comes with a mailbox that insists on stubbornly ignoring the constraints of the space-time continuum. With the mailbox as a portal for their timewarped penpal interactions, their relationship grows; but then more sinister matters start to crop up that need to be dealt with before it is too late...
Posters – click to enlarge
Reviews
silver
It was cute (2017-03-16 12:59:57)


Forum Posts: 81
Comments: 4
Reviews: 21

It is always a treat to see Sandra and Keanu together. They both barely age, and look great together ("SanNu" anyone? okay no...just me? my bad).

It is a really cute love story that allows you to see two people get together despite the fact that they years away from each other.

I'd recommend it to someone to watch, even though there are some things I'd point out...

I don't really see how the two characters fell into such trust and like of each other so quickly. Sandra's character seemed more wooden, or maybe disinterested, than other performances I've seen in her work. There are moments where I don't believe Keanu's acting. The time travel thing is a little difficult to chill with, because of the plot holes it creates, but that's always a risk with time travel.
You must be a member and logged in to leave a review.