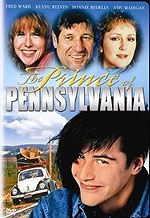 He's The King Of The Badlands... The Rebel Of The Road...
Prince of Pennsylvania, The (1988)
http://www.imdb.com/title/tt0095903/
| | |
| --- | --- |
| Fred Ward | Gary Marshetta |
| Keanu Reeves | Rupert Marshetta |
| Bonnie Bedelia | Pam Marshetta |
| Amy Madigan | Carla Headlee |
| Jay O. Sanders | Trooper Joe |
| Jeff Hayenga | Jack Sike |
| Tracey Ellis | Lois Sike |
| Joseph De Lisi | Roger Marshetta |
| Lauren Camp | Baby Sike |
| Demetria Mellot | Minister |
| Pam Call | Lucky Bell White |
| Paul Palmer | Ed McLaglen |
| G. Ross Berger | Chester |
Summary
Disatisfied with his life and his dysfunctional family, Rupert Marshetta decides one day to kidnap his father Gary for ransom. Working with his friend, Carla, the two of them pull it off - only to discover that no one wants Gary back.
Posters – click to enlarge
Reviews
Guest
I LOVE THIS MOVIE (2011-04-23 07:53:29)
It is fun from first moment til last. Reeves is in nearly every scene in all his pre belly scar youthfulness. The story is preposterous but we have seen how he is onboard for that over the years. It's LOL funny in some scenes. Well cast. Filmed in the writer/directors hometown in, get this...Pennsylvania. Rupert is smart and adorable and they were savvy enough to get plenty of closeups. The love story is what dreams are made of as well as the intimate moments, one in particular that involves an erotic kiss and the body fluid not often used in sexy scenes.
Over all it was a wonderful way to tell a story about smalltown issues, the 80's, teenaged angst, and intimacy problems. Of course, and it is right and good, that Rupert/Keanu solves all the personal problems in the end. I am seeing a lot of Henry's Crime here but that's just me.
It made no sense that Bonnie Bedelia & Amy Madigan were nominated for Indy Spirit awards and Keanu was not as it was clearly his movie. I will say no more.
Make every effort to see it.
You must be a member and logged in to leave a review.