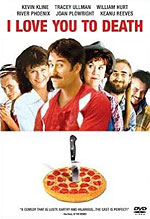 An unbelievable story that's incredibly true.
::
With These People Trying To Kill Him, Joey Boca May Just Live Forever
I Love You to Death (1990)
http://www.imdb.com/title/tt0099819/
| | |
| --- | --- |
| Kevin Kline | Joey Boca |
| Tracey Ullman | Rosalie Boca |
| Joan Plowright | Nadja, Rosalie's Mother |
| River Phoenix | Devo Nod |
| William Hurt | Harlan James |
| Keanu Reeves | Marlon James |
| James Gammon | Lt. Larry Schooner |
| Jack Kehler | Sgt. Carlos Wiley |
| Victoria Jackson | Lacey |
| Miriam Margolyes | Joey's Mother |
Summary
Based (amazingly) on a true story: When Joey Boca's wife, Rosalee, discovers that he has been cheating on her, she sets about - with the encouragement of her mother - to try and kill him. But none of their hilariously inept murder attempts get anywhere near succeeding, and Joey continues on with his life, cheerily oblivious to everything.
Posters – click to enlarge
Reviews
secretkeeper81
I wanted to like this, but in the end I was bored (2022-04-23 13:31:26)


Forum Posts: 25
Comments: 4
Reviews: 4
This movie has a great cast so it looked promising. The actors are actually good in it and I enjoyed the first half or so, but then the plot turned kind of slow-paced and I ended up being bored even before Keanu showed up. He plays a small role as a stoned drug addict with a crazy hairdo (it kinda seemed to me like he was missing some hair patches on the side, maybe it was meant as a result of the character's drug habit?) and does quite a good job of it. But unfortunately his screen time is not much. I loved River Phoenix's hippie-style character. This movie is also full of clichés about Italian people, but as an Italian they didn't bother me that much, in fact they gave me a good laugh.

You must be a member and logged in to leave a review.