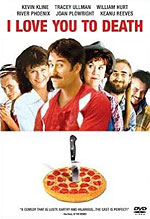 An unbelievable story that's incredibly true.
::
With These People Trying To Kill Him, Joey Boca May Just Live Forever
I Love You to Death (1990)
http://www.imdb.com/title/tt0099819/
| | |
| --- | --- |
| Kevin Kline | Joey Boca |
| Tracey Ullman | Rosalie Boca |
| Joan Plowright | Nadja, Rosalie's Mother |
| River Phoenix | Devo Nod |
| William Hurt | Harlan James |
| Keanu Reeves | Marlon James |
| James Gammon | Lt. Larry Schooner |
| Jack Kehler | Sgt. Carlos Wiley |
| Victoria Jackson | Lacey |
| Miriam Margolyes | Joey's Mother |
Summary
Based (amazingly) on a true story: When Joey Boca's wife, Rosalee, discovers that he has been cheating on her, she sets about - with the encouragement of her mother - to try and kill him. But none of their hilariously inept murder attempts get anywhere near succeeding, and Joey continues on with his life, cheerily oblivious to everything.
Posters – click to enlarge
Reviews
silver
Made me Laugh (2017-03-16 13:13:48)


Forum Posts: 81
Comments: 4
Reviews: 21
Love this. It is funny, and a little dark.


I'd recommend it to almost anyone. Kevin Kline is lovely as usual, Tracey Ullman is good at playing a more straight character rather than comedic, Joan Plowright is hilarious as the mother, William Hurt and Keanu Reeves play well off one another, and River Phoenix was funny and believable in his attraction for Rosalie.

Keanu made me laugh so much during the "Pledge of Allegiance" scene.
You must be a member and logged in to leave a review.