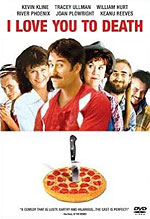 secretkeeper81
I wanted to like this, but in the end I was bored (2022-04-23 13:31:26)


Forum Posts: 26
Comments: 4
Reviews: 4
This movie has a great cast so it looked promising. The actors are actually good in it and I enjoyed the first half or so, but then the plot turned kind of slow-paced and I ended up being bored even before Keanu showed up. He plays a small role as a stoned drug addict with a crazy hairdo (it kinda seemed to me like he was missing some hair patches on the side, maybe it was meant as a result of the character's drug habit?) and does quite a good job of it. But unfortunately his screen time is not much. I loved River Phoenix's hippie-style character. This movie is also full of clichés about Italian people, but as an Italian they didn't bother me that much, in fact they gave me a good laugh.

silver
Made me Laugh (2017-03-16 13:13:48)


Forum Posts: 82
Comments: 4
Reviews: 21
Love this. It is funny, and a little dark.


I'd recommend it to almost anyone. Kevin Kline is lovely as usual, Tracey Ullman is good at playing a more straight character rather than comedic, Joan Plowright is hilarious as the mother, William Hurt and Keanu Reeves play well off one another, and River Phoenix was funny and believable in his attraction for Rosalie.

Keanu made me laugh so much during the "Pledge of Allegiance" scene.