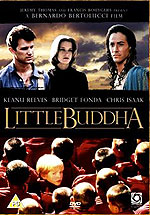 Little Buddha (1993)
http://www.imdb.com/title/tt0107426/
| | |
| --- | --- |
| Keanu Reeves | Siddhartha |
| Ruocheng Ying | Lama Norbu (as Ying Ruocheng) |
| Chris Isaak | Dean Conrad |
| Bridget Fonda | Lisa Conrad |
| Alex Wiesendanger | Jesse Conrad |
| Raju Lal | Raju |
| Greishma Makar Singh | Gita |
| Sogyal Rinpoche | Kenpo Tenzin |
| Ven. Khyongla Rato Rinpoche | Abbot |
| Ven. Geshe Tsultim Gyelsen | Lama Dorje |
| Jo Champa | Maria |
| Jigme Kunsang | Champa |
| Thubtem Jampa | Punzo |
| Surekha Sikri | Sonali |
| T.K. Lama | Sanjay |
Summary
A lama's search in the modern world for the reincarnation of his dead Buddhist teacher brings him to three children. This story is interspersed with that following the life of Prince Siddhartha and his search and eventual attainment of enlightenment as the Buddha.
Posters – click to enlarge
Reviews
silver
Visually Lovely (2018-02-11 12:35:18)


Forum Posts: 81
Comments: 4
Reviews: 19
What an interesting choice for casting they did for this movie. Keanu Reeves playing the person who became the Buddha. The look of the film really goes all out. When the scene looks down trodden, it really goes bleak, but when the scene looks warm and happy it really goes extravagant. Keanu is one of a few actors out of the few actors who went under such a physical change for roles, who didn't get much recognition for that difficult feat. Dear I say that Keanu looked beautiful in this role.
I like the story about finding the new Buddha, however it seemed like the story could have been told during a T.V. show length and not a feature movie length endeavor.
If you want to see visually lovely film, or if you want to see Keanu in a role that took spirituality and pushed it to the forefront, this movie could be for you.
You must be a member and logged in to leave a review.