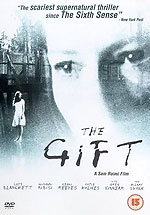 secretkeeper81
A fine movie like they don't make 'em no more (2022-05-06 21:42:38)


Forum Posts: 24
Comments: 4
Reviews: 4
Although it's sometimes labelled as horror, this is basically a crime movie with some supernatural elements. Set in the Southern US, the story depicts a few peculiar characters which are mostly clichéd, but the cast is impressive and I think all the actors did a good job, so the result is pretty enjoyable.
Keanu does not have that much screen time even though his character is pivotal. He still looks damn fine, in spite of his character's despicable attitude. I think it's fun to see him play the bad guy for a change, after all he sure knows how to hold a gun and fight!
silver
Pretty Good (2017-03-16 13:07:41)


Forum Posts: 82
Comments: 4
Reviews: 21
This one is not bad. It is worth the watch.

Keanu plays a character who very different than the other's he is known for playing (characters with charm, and maybe a fair amount of redeemable qualities).

I think that Keanu's character's dialogue (especially when you first see the character) goes about heavily hitting you over the head. They really want you to know that this is an abusive, racist, and sexist man.

All in all, this was pretty good.