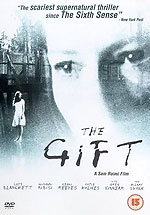 The only witness to the crime was not even there
::
It was the perfect crime... Except someone saw it all
Gift, The (2000)
http://www.imdb.com/title/tt0219699/
| | |
| --- | --- |
| | |
| | |
| Rosemary Harris | Annie's Granny |
| Cate Blanchett | Annabelle 'Annie' Wilson |
| Giovanni Ribisi | Buddy Cole |
| Keanu Reeves | Donnie Barksdale |
| Katie Holmes | Jessica King |
| Greg Kinnear | Wayne Collins |
| Hilary Swank | Valerie Barksdale |
| Michael Jeter | Gerald Weems |
| Chelcie Ross | Kenneth King |
| J.K. Simmons | Sheriff Pearl Johnson |
| Gary Cole | David Duncan |
| Kim Dickens | Linda |
Summary
One day in a town somewhere, a young woman named Jessica goes missing, presumably murdered. Possibly the only person who can help - apart from the culprit willingly turning themselves in - is the local psychic, Annie, because clairvoyancy is useful that way. She helps the police, they arrest a probable suspect, but she continues to get visions that suggest they might have got the wrong guy...
Posters – click to enlarge
Reviews
silver
Pretty Good (2017-03-16 13:07:41)


Forum Posts: 81
Comments: 4
Reviews: 21
This one is not bad. It is worth the watch.

Keanu plays a character who very different than the other's he is known for playing (characters with charm, and maybe a fair amount of redeemable qualities).

I think that Keanu's character's dialogue (especially when you first see the character) goes about heavily hitting you over the head. They really want you to know that this is an abusive, racist, and sexist man.

All in all, this was pretty good.
You must be a member and logged in to leave a review.