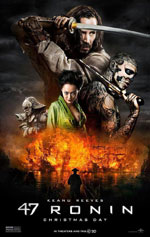 This Christmas, seize eternity
::
The legend is born
47 Ronin (2013)
http://www.imdb.com/title/tt1335975/
| | |
| --- | --- |
| Keanu Reeves | Kai |
| Tadanobu Asano | Lord Kira |
| Hiroyuki Sanada | Kuranosuke Ôishi |
| Cary-Hiroyuki Tagawa | Shogun |
| Rinko Kikuchi | Mizuki |
| Yorick van Wageningen | Kapitan |
| Jin Akanishi | Chikara Ôishi |
| Ko Shibasaki | Mika |
| Togo Igawa | Tengu Lord |
Summary
A retelling of the true 18th-century Japanese legend involving a group of samurai who set out to avenge the death of their master.
Posters – click to enlarge
Reviews
silver
A good popcorn movie. (2017-03-16 12:43:04)


Forum Posts: 81
Comments: 4
Reviews: 21
As this movie was based off of a well known passed down story, I didn't like how it was executed. If it were just a story written up for a move, and had no cultural background, it would have been better in my eyes. Even I (an American female, with no known ties to Japanese culture) knew of this story since perhaps High School, which was about 11 years ago.

Keanu shows a pretty decent amount of skill in the style of acting that is required of someone in this type of film. What I noticed about Japanese movies is that even when the movie is an action, there's a soulful nuance in the performance. Every expression, every movement has meaning.

The romance angle was nice (while not entirely unexpected.), and who doesn't like to see Keanu play a character who's in love?

This is a good popcorn movie.
You must be a member and logged in to leave a review.