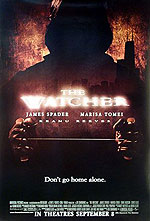 Don't go home alone.
::
Someone wants to play.
Watcher, The (2000)
http://www.imdb.com/title/tt0204626/
| | |
| --- | --- |
| Keanu Reeves | David Allen Griffin |
| Marisa Tomei | Dr. Polly Beilman |
| Ernie Hudson | Ibby |
| Chris Ellis | Hollis |
| Robert Cicchini | Mitch Casper |
| Yvonne Niami | Lisa Anton |
| Jenny McShane | Diana (as Jennifer McShane) |
| Gina Alexander | Sharon |
| Rebekah Louise Smith | Ellie |
| Jill Peterson | Jessica (as Jillian Peterson) |
| Joseph Sikora | Skater (as Joe Sikora) |
Summary
Serial killer stalks cop. Cop angst. Serial killer serially kills. Cop angsts more. Serial killer sends pictures of future victims to cop, because he is considerate that way. Cop angsts even more.
Posters – click to enlarge
Reviews
silver
Ok Let's See (2022-01-04 02:05:23)


Forum Posts: 82
Comments: 4
Reviews: 21
Since I can't Review Matrix 4 Yet(What is this "Spoiler" Protection?) , I'm going to review "The Watcher", pretty much as I watch it for the first time.

Ok Let's see...So far the editing I see is supposed to seemingly disoriented, but it just reminds of a cheap MTV-esque music video.
Rob Zombie song, I dig the choice.
Marisa Tomei, I dig the choice.
Dutch Angles?...I don't dig.
Keanu is creepy, but cringe creepy, NOT Scary creepy so far.
Ernie Hudson? I dig the choice.
I'm going to be honest, as of now, this isn't holding my attention. I'm skipping a little.

What is good about Reeves' portrayal, is the eye work he does. The character likes to sit back and observe the results of his actions, and Reeve's shows that easily.

Some how this movie doesn't build up the Action or thrill at all for. It really seems like something you'd find on MTV if they did movies. A quick movie with quick cuts and a few Dutch Angles. The lead Detective played well, if only one note.

5.5/10 . Watch it once, and done.
You must be a member and logged in to leave a review.