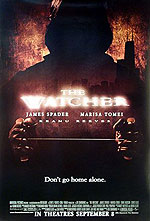 Don't go home alone.
::
Someone wants to play.
Watcher, The (2000)
http://www.imdb.com/title/tt0204626/
| | |
| --- | --- |
| Keanu Reeves | David Allen Griffin |
| Marisa Tomei | Dr. Polly Beilman |
| Ernie Hudson | Ibby |
| Chris Ellis | Hollis |
| Robert Cicchini | Mitch Casper |
| Yvonne Niami | Lisa Anton |
| Jenny McShane | Diana (as Jennifer McShane) |
| Gina Alexander | Sharon |
| Rebekah Louise Smith | Ellie |
| Jill Peterson | Jessica (as Jillian Peterson) |
| Joseph Sikora | Skater (as Joe Sikora) |
Summary
Serial killer stalks cop. Cop angst. Serial killer serially kills. Cop angsts more. Serial killer sends pictures of future victims to cop, because he is considerate that way. Cop angsts even more.
Posters – click to enlarge
Reviews
Br0nz18
The Watcher (2010-06-14 16:00:14)


Forum Posts: 30
Comments: 9
Reviews: 3
My overwhelming impression is that Keanu made this movie creepy. His gorgeous smile was there, the little habits and quirks that you see in other movies...but he is a baaaad man in this, so his charm + nasty = creepy.
Although I knew he'd die/get caught in the end (the plot is none-too-original) there is still a sense of tension about just how far David Allen Griffin will go before he is caught/killed.
I liked the flashback/dreams as they gave clues to the backstory.
There was sufficient sympathy given to the victims, quite pretty women who are isolated, often by choice. The tension around the search for the camera shop girl was good...you could hope they'd find her but...
I watched this also with "The Gift" in mind, seeing how playing the bad guy here gave Kenau experience for Donnie Barksdale, and looking for any links, interpretation-wise.
Will definitely watch it again.
You must be a member and logged in to leave a review.