Johnny Utah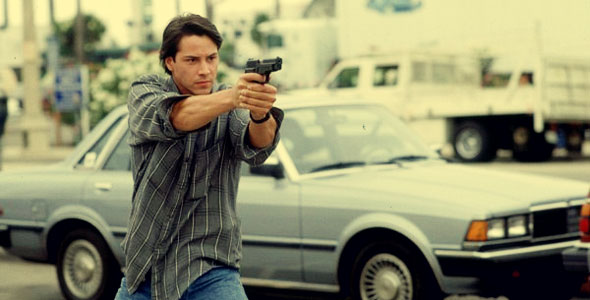 Young, dumb and full of cum

Age:
25
Occupation:
FBI agent. He's very clear on that one.
Distinguishing Feature:
Surfboard
What He Taught Us:
To fire guns in the air and yell "aaargh"
Keanu Reeves
One of the things I dug was his name: Johnny. The energy from that name! I already had an expectation of this guy. Johnny Utah is a very physical, very competitive, very cocky character who's not sure if he's ever really been happy. He's always liked living right on the edge, but through his relationship with the leader of the gang, he learns a lot about himself.
As soon as Utah enters this scene, everything goes wrong for everybody. He wants to win. The essence of football, especially for a quarterback like he was, is to win. In the beginning, Angelo goes, 'You wanna catch the bad guys and be a big hero?' and he answers, 'Definitely.' He has no concept of what that means except from a football, 'win' mentality. But all of that gets torn apart. He gets confronted with moral questions. To get to Bodhi, he manipulates a girl in an evil way. But it's from innocence, almost. His innocence about the game of winning.
Utah doesn't understand himself a lot, and he hasn't experienced a lot of different things. He likes physical rushes and the way they unite with his mind. He's motivated, he's got a pretty good sense of humor, he's a smart guy, knows what's up. But all of that gets torn apart. He gets confronted with moral questions. He kind of deconstructs into where, at the end, the man really doesn't have anything. He just has to start again.
His sense of control is ripped apart by the ocean. This is a very competitive guy, a hero, and he finds something he can't do - he can't surf, you know. No matter what he does, he can't defeat it. So he's getting physically and spiritually and emotionally beaten up and then he's also with the people that he digs, you know, going through such extraordinary experiences, jumping out of planes and learning about letting go and about peace and respect...
Johnny is brimming with self-confidence bordering on arrogance; spirited, crazy and carefree and wild.
Of course Point Break is an action movie, but it's full of a sort of "wild philosophy" as well. Its main character, Johnny Utah, is a young FBI agent who has just ended his training and he's ready to face his job and all the duties it requires. He's very determined to pursuit success; he's self-confident, daredevil and enthusiast. He wants to reach his aim - that is catching a gang of bank robbers - at any cost. In order to do this, he has to undercover to infiltrate in their surfing community. But his friendship with Bodhi, the gang leader, creates an internal struggle in him.
He and Bodhi have opposite roles in society. Johnny's is keeping control and order, while Bodhi's is rebelling against the social system that he believes it kills human spirit and freedom. In spite of his responsibility as an agent, Johnny finds himself attracted to Bodhi's adrenaline-charged lifestyle. He finds totally at his ease while surfing in the water or floating in the air with his new friends. Usually nervous, it's just in the sea where he relaxes and turns "almost happy". And Bodhi likes him, as he thinks Johnny is very similar to him. Intelligent, brilliant, his mind as sharp as a blade. And crazy.
So his investigations into the gang lead him to discover his hidden, wild side, and this conflict will be evident until the end. Surfing has proven to be a real revelation for him, in all senses.
On the other hand, he never forgets he's an agent with a precise aim, and he's so determined in this, that, thanks to his bravery and passion he almost risks his life in order not to let Bodhi escape.
But once his aim is reached, his wild spirit tells him that it isn't the right solution, and maybe that his role as an agent may not be right for him as well. So he accepts Bodhi's will.
This is one of the first movies in which Keanu plays his "classical role", in which he's always very good at - a character in conflict between opposites; reason and instinct, order and freedom, right and wrong things. But what is right and what is wrong in the end?
---